Swedish Massage
Swedish Massage in Coventry, at Almond Tree Holistic Therapies Clinic, by a Qualified Massage Therapist.
Swedish Therapeutic Massage is a firm but gentle treatment.
Deeply relaxing and rejuvenating, it allows the body and mind to unwind, easing away everyday muscular aches and pains and promoting a sense of calm and well being.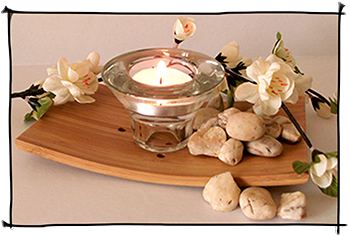 The initial massage treatment begins with a short consultation to discuss your medical history and treatment expectations. This allows me to tailor a massage to best suit your requirements, perhaps focusing on areas which are causing you more of a problem or omitting others, depending on your preference.
Massage uses a range of movements and covers the legs, feet, arms, hands, neck, shoulders and back. Your comfort and dignity is of the utmost importance at all times.
Relaxing music and candles add to the tranquil atmosphere and you may find yourself drifting off to sleep as the treatment progresses.
You are encouraged to relax and rest for a few minutes following the massage, before being offered a refreshing drink.
Massage has been shown to have many benefits, some of these include:
- relieving mental and emotional stress and anxiety
- improving flow of blood and oxygen to the skin
- improving lymphatic drainage and removal of toxins
- improving muscle tone
- soothing muscular aches and pains
- encouraging a sense of well being and relaxation
Swedish Massage Option
£42 for a 75 minute massage.

How To Book

1) As appointments can book up quickly, it is advisable to first check availability & book in, by contacting 0785 2929532 (texting is usually easier) before paying.
2) Once booked in, you can pay via PayPal by clicking the 'Add to Cart' button below & completing payment, or pay with cash on the day of your appointment.

During the payment process please do not select the option to delay payment by 14 days.
Payment by PayPal, or by credit/debit card through PayPal, is currently only available online.
Please note there are medical conditions where a massage is not recommended, these include infectious skin disorders, acute infectious diseases, a thrombosis/embolism (clots), recent surgery/scar tissue or a high fever. In other instances it may be necessary to check with your GP before booking a treatment, for example if you have diabetes, cancer, very high/low blood pressure, any kind of heart condition, osteoporosis or epilepsy. If you have any questions regarding this information, please email me or phone to discuss your concerns.