Detox Massage
Detox Massage in Coventry, at Almond Tree Holistic Therapies Clinic, by a Qualified Massage Therapist.
A great way to help invigorate your skin and cleanse away toxins, this massage blends several techniques into one effective treatment.
During the initial consultation, we will discuss your medical history and treatment expectations, before beginning the massage with dry skin brushing, a gentle process using a soft natural bristle body brush which aims to improve the circulation, and stimulate the lymphatic system.
A detoxifying blend of natural salt crystals and pure essential oils is then applied to exfoliate the skin - removing dead skin cells and leaving your skin soft and glowing. This is followed by a technique to relax the underlying muscles and increase the removal of toxins, using a combination of Deep Tissue massage strokes and a bespoke blend of essential oils.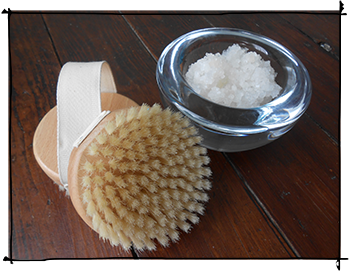 Lymphatic drainage completes the routine, a gentle sweeping massage which aims to help remove toxins from the areas worked on during your treatment.
During the massage, you will be covered with warm cotton towels and only the area currently being massaged will be exposed. Your comfort and dignity is of the utmost importance at all times.
Following your massage, you may wish to continue the detoxification process. If so, advice and information sheets regarding dry skin brushing and exfoliation are available to assist you in this process.
Detox Massage Options
£47 for a 75 minute massage.

How To Book

1) As appointments can book up quickly, it is advisable to first check availability & book in, by contacting 0785 2929532 (texting is usually easier) before paying.
2) Once booked in, you can pay via PayPal by clicking the 'Add to Cart' button below & completing payment, or pay with cash on the day of your appointment.

During the payment process please do not select the option to delay payment by 14 days.
Payment by PayPal, or by credit/debit card through PayPal, is currently only available on-line.
Please note there are medical conditions where a detox massage is not recommended, these include during pregnancy, if you have any infectious diseases, if you are experiencing any fever, diarrhoea or vomiting, if you have any condition where you are experiencing a loss of sensation eg. Neuropathy, post surgery, recent tummy tucks or liposuction; varicose veins, any conditions which cause a depressed immune system eg. Lupus, Epstein Barr, Mononucleosis, HIV/Aids or Cancer; skin conditions such as eczema, psoriasis, shingles or herpes etc, if you have any localised pain, inflammation, swelling or bruising, if you have recent scar tissue, cuts or if you have any open wounds. If you have diabetes or high/low blood pressure it is advisable to consult your GP to check the suitability of this treatment before booking.