Pregnancy Massage
Pregnancy Massage in Coventry at Almond Tree Holistic Therapies Clinic by a Qualified Massage Therapist.
Pregnancy massage is a gentle, relaxing treatment, suitable after the first trimester, which aims to support the mother's body at a time when it is experiencing many changes.
This soothing treatment begins with a short consultation to discuss your medical history, ensuring the massage is suitable for you and allowing me to tailor it to your specific needs.
Once lying in a comfortable position, you will be covered with warm towels, and the massage will begin with gentle flowing movements, relaxing the back, shoulders, arms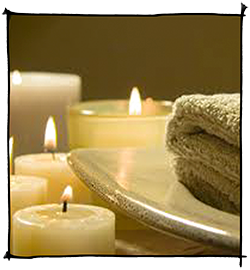 and legs. You may choose to have the massage with one of a selection of oils, all being suitable for use during pregnancy. A popular choice is the Neal's Yard Organic Mother's Massage Oil - an especially nourishing massage oil for new mothers and all mothers-to-be. This nourishing oil with organic soya and almond helps to tone the skin and prevent stretch marks. Soft music and candles create a peaceful environment and you may find yourself drifting off to sleep as the treatment progresses.
Additional movements may be used during the massage to help relieve any problems we may have discussed during the consultation, assisting with symptoms such as morning sickness, leg cramps, lower back pain or shortness of breath.
Pregnancy massage may help:
- Relieve aches and pains - releasing muscle tension in the back, shoulders and hips, easing sciatica and symptoms of SPD (Symphysis Pubis Dysfunction).
- Stimulate the circulation and encourage lymphatic drainage.
- Prevent varicose veins developing.
- Encourage deeper breathing.
- Reduce fatigue, stress and anxiety.
- Assist with sluggish bowel movement.
- Can help lower blood pressure or keep higher blood pressure more balanced.
- Improve sleep and encourage deeper relaxation.
- Encourage release of oxytocin.
Research shows that massage can also benefit the developing baby by encouraging the production of 'feel good' endorphins in the mother, which pass on to the baby.
After the massage, you will be encouraged to relax and rest for a few minutes, before being offered a refreshing drink.
Pregnancy Massage Options
£42 for a 60 minute massage.

How To Book

1) As appointments can book up quickly, it is advisable to first check availability & book in, by contacting 0785 2929532 (texting is usually easier) before paying.
2) Once booked in, you can pay via PayPal by clicking the 'Add to Cart' button below & completing payment, or pay with cash on the day of your appointment.


During the payment process please do not select the option to delay payment by 14 days.
Payment by PayPal, or by credit/debit card through PayPal, is currently only available online.
Please note this massage is suitable after the first trimester and you need to be registered with a GP/midwife prior to treatment. There are medical conditions where any massage is not recommended, these include infectious skin disorders, acute infectious diseases, a thrombosis/embolism (clots), phlebitis, aneurysm, bone fractures/ acute soft tissue injuries, cerebral palsy, haemophilia, recent surgery/scar tissue or a high fever.
In other instances it may be necessary to check with your GP/Midwife before booking a pregnancy massage, for example if you have a high risk pregnancy, abdominal pain, bleeding/heavy vaginal discharge, gestational diabetes, high blood pressure, pre-eclampsia, HELLP syndrome, Symphysis Pubis Disorder (SPD), Obstetric Cholestasis, Placenta Praevia, Placental Abruption, bipolar disease, any kind of heart condition, cancer, osteoporosis or epilepsy. If you have any questions regarding this information, please email me or phone to discuss your concerns.