Hot Stones Massage
Hot Stones Massage in Coventry, at Almond Tree Holistic Therapies Clinic, by a Qualified Massage Therapist.
A thoroughly relaxing treatment, Hot Stone Massage combines traditional massage with the use of heated basalt stones, warming the body tissues prior to massage to allow a deeper level of relaxation.
The stones are used to massage the face, neck, arms, legs, shoulders and back, using a blend of massage oils to soothe and relax the muscles.
Cold marble stones may also be used where there are signs of muscular injury or inflammation, stimulating the nervous system and improving lymph flow.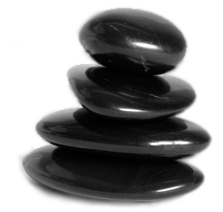 Benefits of Hot Stones (Thermotherapy) may include:
- Improving circulation and blood flow to body tissues
- Improving lymphatic drainage and removal of toxins
- Increase in metabolism
- Decrease in blood pressure, stress, fatigue and tension
- Relaxing, sedative effects
- Boost to the immune system

The clinic offers the following Hot Stones treatments:

40 minute Hot Stones Back, Neck and Shoulders Massage, helping to warm and relax muscles in these areas, releasing tension and soothing aches and pains.
75 minute Hot Stones Body Massage, including the facial area, back, neck, shoulders, arms, legs, hands and feet.
Hot Stones Back Neck, Shoulders Massage Options
£32 for a 50 minute massage.
Hot Stones Body Massage Options
£47 for a 75 minute massage.

How To Book

1) As appointments can book up quickly, it is advisable to first check availability & book in, by contacting 0785 2929532 (texting is usually easier) before paying.
2) Once booked in, you can pay via PayPal by clicking the 'Add to Cart' button below & completing payment, or pay with cash on the day of your appointment.


During the payment process please do not select the option to delay payment by 14 days.
Payment by PayPal, or by credit/debit card through PayPal, is currently only available online.
Please note there are medical conditions where a massage is not recommended, these include infectious skin disorders, acute infectious diseases, a thrombosis/embolism (clots), recent surgery/scar tissue or a high fever. In other instances it may be necessary to check with your GP before booking a treatment, for example if you have diabetes, cancer, very high/low blood pressure, any kind of heart condition, osteoporosis or epilepsy. If you have any questions regarding this information, please email me or phone to discuss your concerns.